Tom Quigley's Website
Acoustic Guitar, Mandolin, Keyboards, and Vocals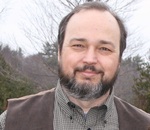 Tom has been playing music for over 30 years, whether it be keyboards in a rock & roll, country, blues band or contradance band, or be it playing guitar or mandolin in a bluegrass band.
Now Tom brings his repertoire of music to either a duet setting (with his wife Marie on bass and guest musicians occasionally sitting in) or a group setting. This duet setting is perfect for small clubs and cafes.
Tom's group work, which usually consists of a combo performing acoustic covers of popular and traditional tunes played with bluegrass style, is perfect for parties as well as town and village concert series. Plus Tom enjoys playing for contradances which allows for interesting and entertaining instrumental arrangements.
Sample free recordings are available by clicking on "File Share" in the blue menu bar above or clicking
HERE
. Open any of the folders for some musical samplings. The music can be either streamed or downloaded. Check back accasionally for newly added samples.
Tom's email is
gemini704@juno.com
He is also on
Facebook
at
https://www.facebook.com/thomas.j.quigley